The Other Side Thrift Boutique
The Other Side Thrift Boutique
Murray, Utah, United States
Business Details
The Other Side Boutique is one of the training schools at The Other Side Academy, a 501(c)(3) non-profit, residential facility helping former felons, substance-abusers & others get clean, stay clean, & learn how to live successful, productive lives.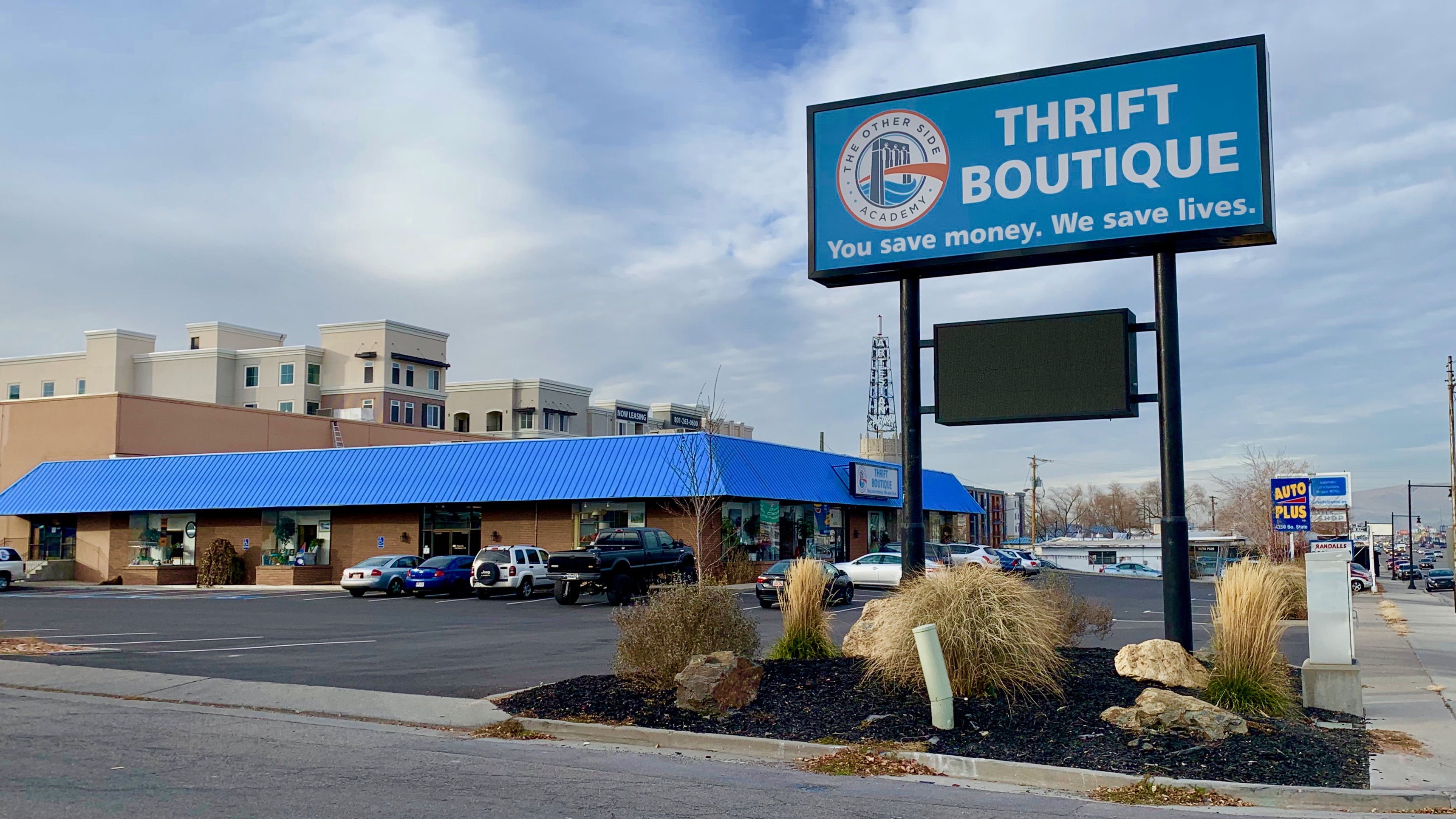 "They really have great stuff," said Christi Youd, a regular customer at The Other Side Thrift Boutique in Salt Lake City.  "It's at a great price, and it's stuff you might not find at other thrift stores."
"I just love it," said Lori Haglund, another regular at The Other Side Thrift Boutique in Murray.  Then she added, "I like the set-up.  It's just so clean and organized and meticulous."
That is true.  When I visited The Other Side Thrift Boutique, the first thing I noticed was how clean, decorated, and uncluttered the store is with a very fresh smell.  To me, it felt more like a department store than a thrift store.
"That's very intentional," said manager Beau Clark.  "Pride is one of the main tenants here.  When someone is responsible for a section or a job, that's a really personal thing."
Beau is talking about not just the store, but also the employees and their backgrounds.  Like Beau himself, all of them have a history of drugs and alcohol and resulting jail time.  They are all in a 2 year live-in program designed to change their lives called The Other Side Academy.  All the operating expenses come from their moving company called The Other Side Movers.  And all the merchandise at The Other Side Thrift Boutique comes from homes and businesses where the owners no longer want certain furniture, clothing, and household items anymore.
"It means the inventory is mostly high end," Beau told me.  "It's all in great condition, and it's still at thrift store prices."
Further, I have fully investigated the background of The Other Side Movers and The Other Side Thrift Boutique, including the backgrounds of the company operators.  We looked in the courts, in licensing, social media, and other areas.  The result is I am proud to endorse The Other Side Thrift Boutique, and declare it Gephardt Approved.
Regarding customer purchases of merchandise itself, Beau says the attitude is "let 'em win."  "Our line to customers is you save money, we save lives," Beau told me.  "We love the fact that people find stuff, and have a great price, and they get to win."
I asked about that thing that struck me the moment I walked into the store:  how clean and refreshing the whole atmosphere seemed.  "It's pride in work and what we do," said Beau.  "It is reflected in every facet of the business:  from customer service, the way we price things, to the way we put things on the floor."
"I just love the people," said customer Lori Haglund.  "They take so much pride in their work.  I've donated and bought a lot because I love it."
Indeed, during one of my visits, an employee took me to the warehouse area where again, despite the constant flow of donated goods being sorted, cleaned, and prepared for sale, there was no mess and no clutter.  Computer screens show where everything in the inventory is located throughout the rows and rows of 30 foot high merchandise shelves.   Some of the merchandise is waiting to go on the sales floor, and some is being held for customer pick-up. 
Plus, here's something I've never seen at any thrift store I've visited:  they offer delivery service for those items too big to carry.  They also arrange pick-up for heavy donated items.    
The whole customer experience is very intentional, says Beau.  "We live a life of integrity at The Other Side Academy that is above and beyond.  We are truly changing lives, and our character reflects that.  Our honesty and our businesses have to reflect that."
"They really have so much pride in their work," says Lori Haglund.  "It really is a different experience."
So there you go:  The Other Side Thrift Boutique.  Now you know what I have found out about this company.  Now you know what my independent investigation into the company has revealed.  Now you know what customers told me about their experience. 
So, now you know why I enthusiastically endorse and stand by The Other Side Thrift Boutique,  and why I am proud to declare them Gephardt Approved.
--Bill Gephardt

Type:

Distributor , Retailer

Keywords:
Murray, Utah, United States